Empower Your Children Through the Youth Coding League
The Youth Coding League is an innovative and complete learning program, built for schools and community organizations, that introduces 5th-8th graders to computer science and coding. The YCL focuses on access, inclusion, and self-efficacy for all. Bring the Youth Coding League to your school!
SIGN ME UP!
Hear What Teachers are Saying About YCL
Trusted by 90+ other schools nationwide, the Youth Coding League is an innovative, project-based introduction to computer science using a youth sports model, fully-packaged for schools from training to gear and prize distribution.
Decked out in team gear, customized to your school colors, students can track their stats both individually or as a team at YouthCodingLeague.com and compete against other schools in a playoff series with big prizes on the line.
No coding experience is required for you or your students, and the program takes place in your schools with the full support of dedicated Youth Coding League staff.
"This is something that ANYONE can participate in. The Youth Coding League gives us the opportunity to compete against other schools without having to travel to different schools to do so."
"I liked the assurance of knowing that I had someone to contact with questions anytime the need arises."
"I loved watching my students be challenged by the exciting new prompts they were given each week. Watching them help each other while also being competitive was amazing!"
"I like that it is easy to run the program for someone who doesn't know much about coding."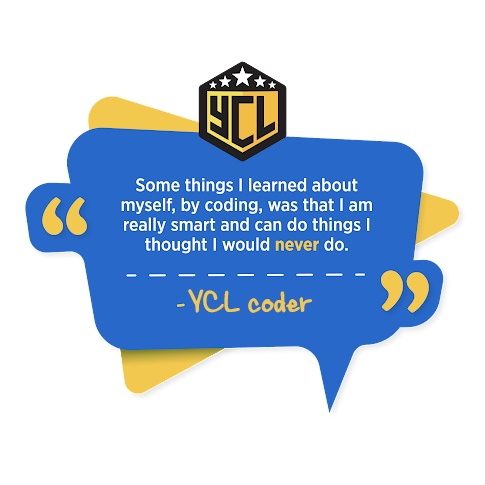 The Youth Coding League's Focus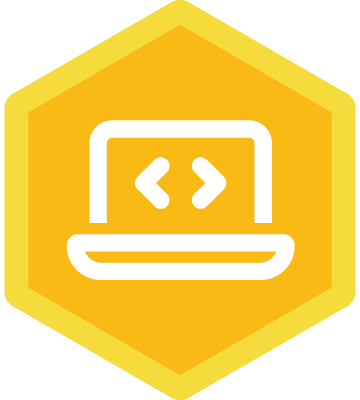 Concepts, Skills, and Competition
Students learn key computer science principles in a weekly project-based regular season, and showcase their new skills with teammates in postseason competition against teams from across the U.S.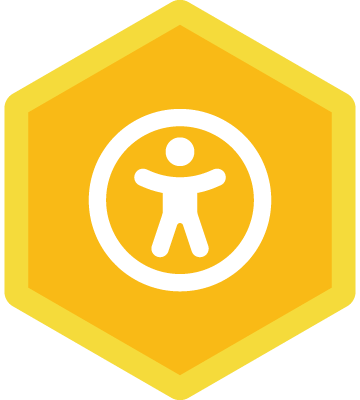 Access
A co-curricular program designed for in-school and after-school delivery, ensuring access to students at all levels of academic achievement.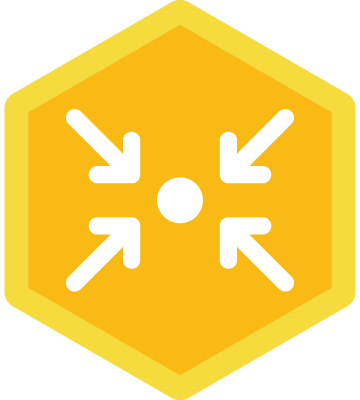 Inclusion
Innovative, thematic curriculum presented in an approachable, research-based method that appeals to students from all walks of life.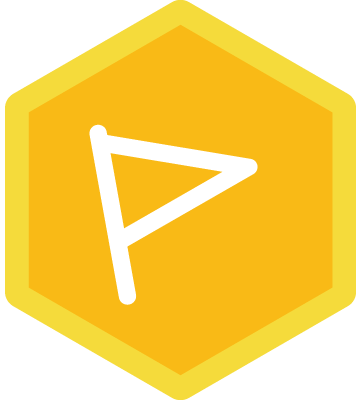 Self-Efficacy
Inspired by athletic team programs, YCL provides a personal connection for youth from varied interests and aptitudes that helps develop confidence and engagement.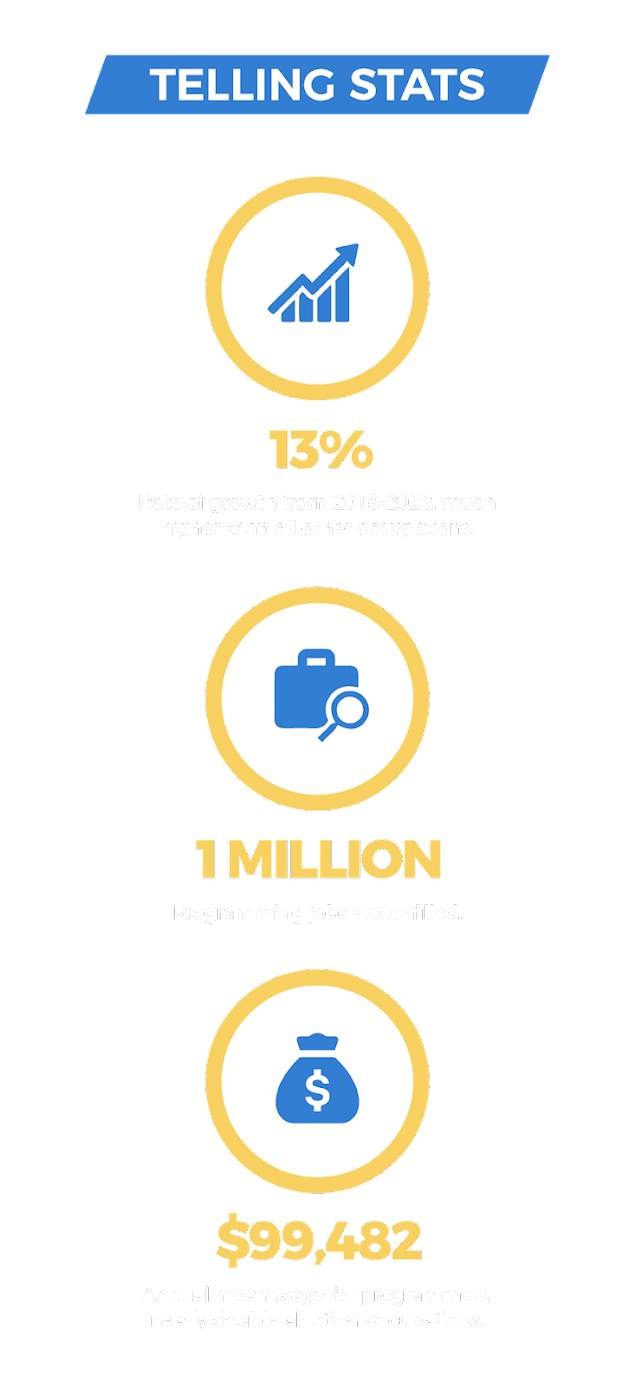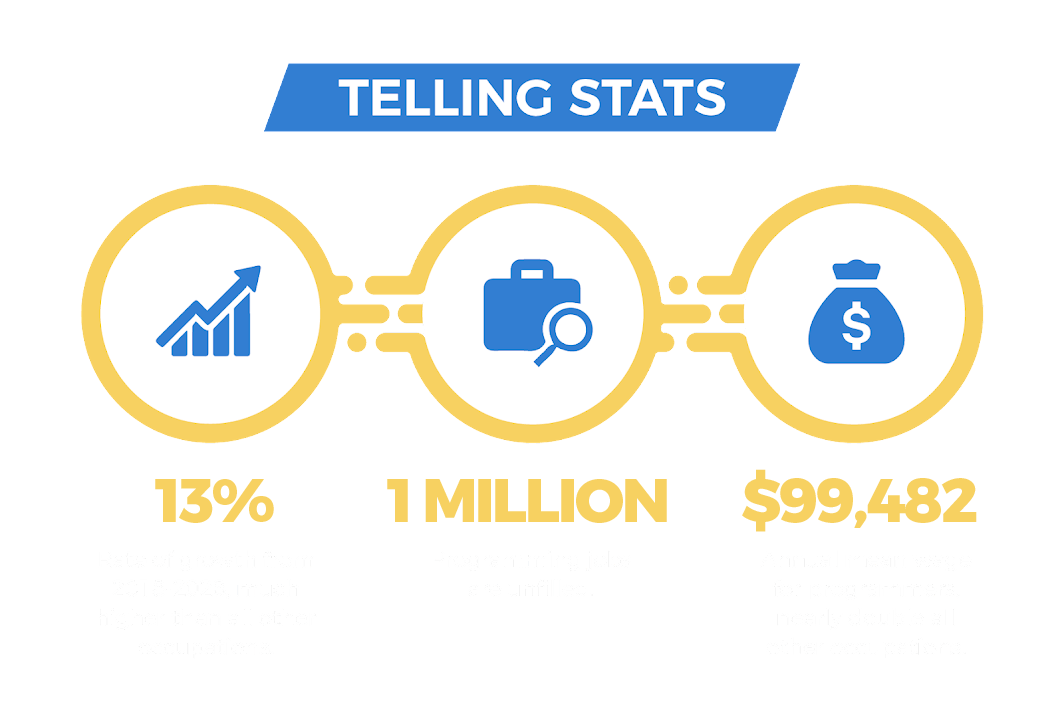 How the Youth Coding League Works
The Youth Coding League runs during each school semester, with Fall and Spring seasons. Each season includes a regular season and a postseason, with students meeting weekly for 1.5-2 hours at a time through the semester.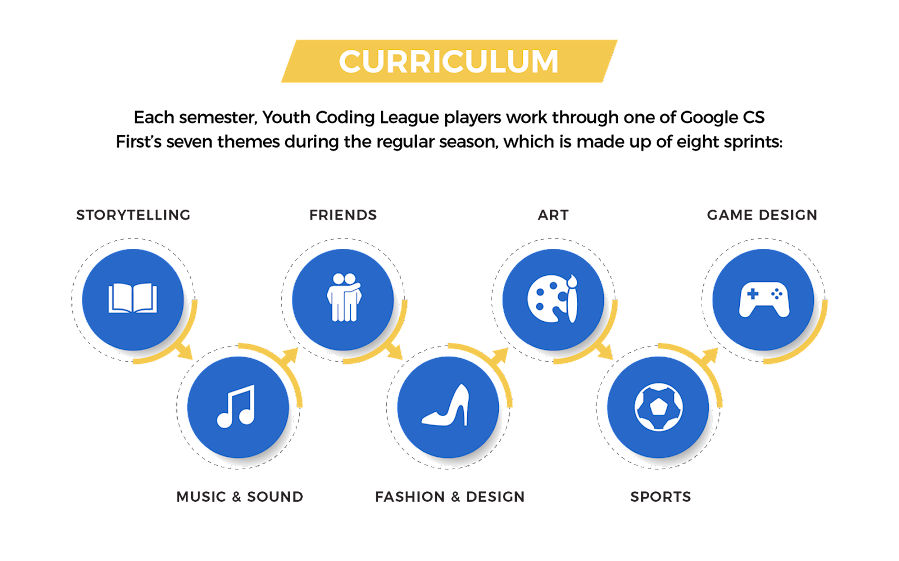 Regular Season
The regular season is 9-weeks long, and takes students through a structured curriculum where they learn the basics of computer science. During each sprint as students learn a new coding concept, they immediately apply that concept on a project they build out in Scratch, creating a new project each sprint.
"Epics" present additional challenges for each sprint, and give coders a chance to sharpen their skills and earn badges, and add-ons provide more opportunities for coders needing additional challenges.
Youth Coding League staff score these projects, and the coder's scores go live at YouthCodingLeague.com each week, where coders can see how they rank in a national leaderboard both individually and as part of a team, and can check on their progress on their coder profiles.
The top 10 individual coders are awarded at the conclusion of each season.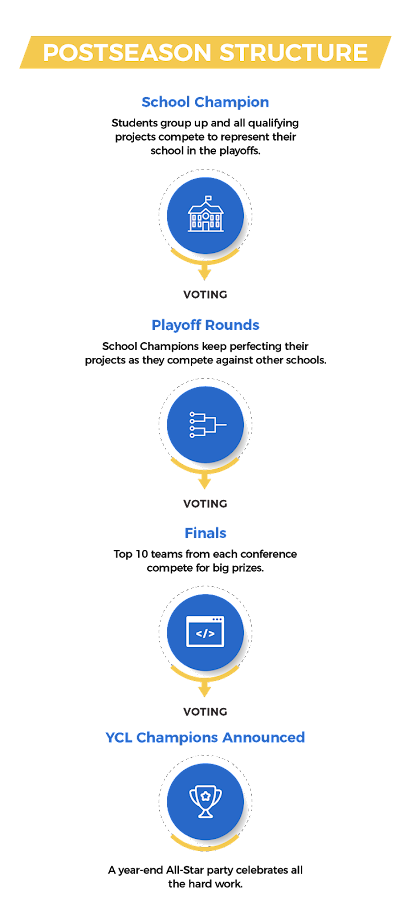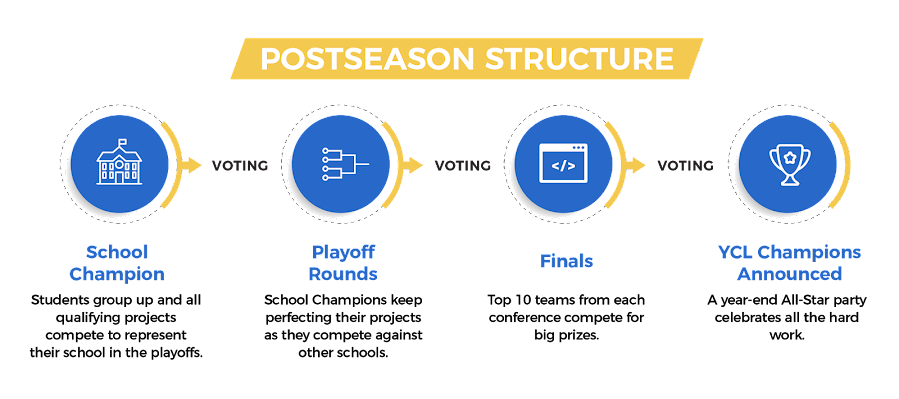 Postseason
After a regular season filled with core computer science concepts, coders group up and build a project using a broad prompt (with plenty of room for creative license) over the course of a few weeks.
These group projects showcase everything the coders learned in the regular season and are entered into a competitive postseason playoff series, with big prizes on the line, like laptops, drones, movie projectors, and more.
Prizes are shipped directly to schools and organizations, with coders receiving prizes for their own individual use.
The playoffs are virtual, bracket-style competitions with multiple ways to win: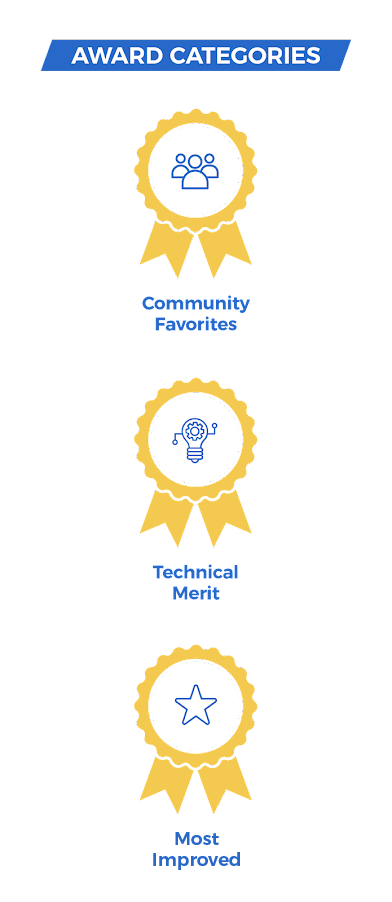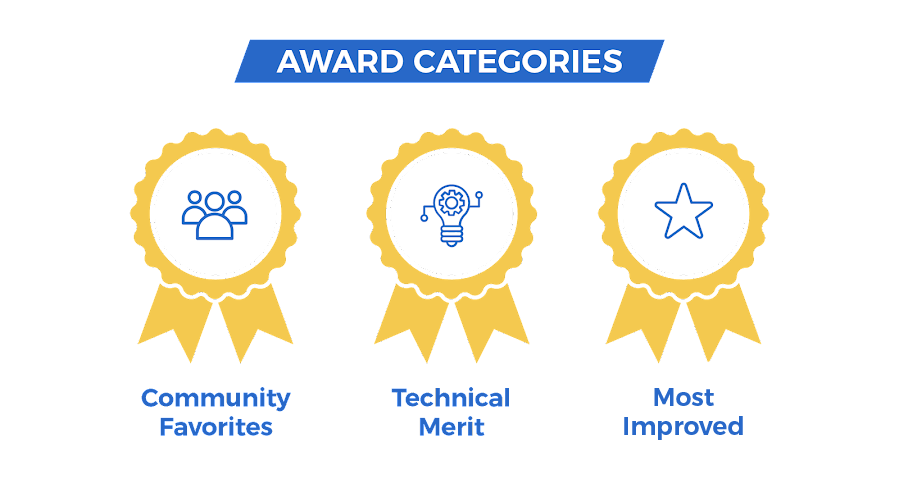 Community Favorite
One project is selected as its school or organization champion in the preliminary round, and that project goes on to compete against all of the other projects in the league, with the project receiving the most votes from their school or organization community progressing on to the next round.
Technical Merit
Technical Merit track projects from across the league are evaluated anonymously by industry professionals who score for code proficiency and skill. Projects with the highest scores move on from round to round.
In addition, one coder from each school or organization is recognized by their coach for showing the most improvement throughout the season.
How We Support This Program in Your School or Organization
We provide training on your schedule to make sure you feel set up for success.
You aren't in this alone, and we back that up with quick, responsive support and dedicated Youth Coding League team members who are invested in the success of your team and are here to help. Tooting our own horn is awkward, so here's what one of our coaches from the Fall '21 season shared with us: "One of the things I like best about the YCL is the support I receive from staff."
A streamlined dashboard just for YCL coaches is at your fingertips, where every document, date, and more is organized and ready. Here, you can edit your roster of coders, upload playoff projects, get a quick refresher through a "how-to video," connect with a community of other YCL coaches, and much more. The YCL is full-time for our staff, but it's extracurricular for you, and whenever we can lighten the load of the coaches we work with, we do it.
The Youth Coding League is fully-packaged for schools and organizations—there's not a single worksheet you'll need to create. From start to finish, we set you up to enjoy the light bulbs going off over your students' heads while we do the heavy lifting.
What We Need From Schools and Organizations to Make the Youth Coding League a Success for Your Students
An educator, staff member, or engaged volunteer excited about bringing coding skills to your students with time to commit to a team.
Learn more about the time commitment for Youth Coding League coaches here.
A group of coders ready to compete as a team all season long and learn the basics of computer science. An ideal team size is around 15-20, and teams can be as small as 5.
Your school or organization's investment.
With an investment of $2,500/semester, the Youth Coding League program can be seamlessly implemented into your school or organization.
What Students and Parents are Saying About YCL
Ready?
By bringing the Youth Coding League to your school or organization, you aren't just giving your kids another extracurricular activity. You're giving students a whole new purpose, highly sought-after career skills, better grades, and future-ready skills—and we can't wait to be a part of your school or organization community, so let's do this!
Next Steps
Book a call with Stacy to talk through specifics.
We'll talk through coach selection and team formation, do some paperwork, and be ready to go when coach trainings begin right before the start of your next semester.
Looking for materials to share with other decision-makers at your child's school or organization? Check out the materials below:
FAQ
What does the Youth Coding League cost?
Participation costs starts at $2,500 per semester.
Can my school or organization only participate in one season a year?
Absolutely! Most of our schools and organizations participate year round, but some of our schools pick either the Fall or Spring semester to join in.
How many coders are typically on a team?
15-20 coders per team is a great team size, but we have teams as large as 60 and as small as 5.
Do coaches receive any payment for their time?
We offer stipends to our hard-working coaches, ranging from $400-$600 per coach.
What happens if we have too many coders for one coach?
Our pricing model allows for more stipends to be paid to another co-coach as teams grow in size.
What curriculum do you use?
We use Google's CS First for the regular season, overlaid with our own competitive element and support. The postseason is focused on group work and more rounds of competition.
What other schools are participating?
Check out our roster here. Currently, we have Youth Coding League teams in Missouri, Illinois, Kentucky, Kansas, Iowa, Vermont, Florida, and Minnesota.
What age groups does the YCL cover?
5th and 6th grades make up the middle school division, and 7th and 8th grades make up the junior high division.
Who runs the Youth Coding League?
The Codefi Foundation on Rural Innovation, working to eliminate the skills and opportunity gaps preventing workers and entrepreneurs in rural regions from thriving in the digital economy. We're a 501(c)(3) non-profit organization based out of Cape Girardeau, Missouri.